Posted by marcie on 30 July 2014
Herring & Herring: Framed is coming out in September and it features Elijah Wood on the cover!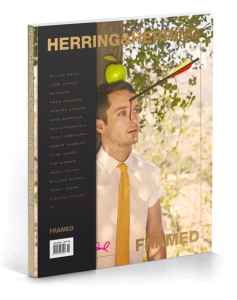 Herring & Herring magazine is an image-lead biannual publication consisting solely of conceptually based fashion and portrait photographs shot exclusively by photography duo Herring & Herring. The upcoming issue, Framed, focuses on notable entertainers from various industries. The eclectic mix of subjects includes Beyoncé, Elijah Wood, Fred Armisen, Gina Gershon, Gavin Rossdale, Lars Ulrich, Kelly Osbourne, Marton Csokas, Vincent Piazza, Davey Havok, LP, Luke James, William DuVall, Tim Simons, Amber Tamblyn, and Teddy Sears. Although the issue is distributed through newsstands, it reads more like a coffee table book than your average magazine.
Herring & Herring: Framed will be out on newsstands worldwide in September 2014 and is available for pre-order starting August 1st. Here is a link to our website where you can preview the magazine:


www.herringandherring.com
0 Comments